Commission on Geographical Education of the International Geographical Union
Geography Education for the Anthropocene
On behalf of the Commission on Geographical Education of the IGU and of the Conference Organizing Committee, we would like to invite geographical education researchers and teachers to 2023 IGU-CGE International Conference to be held at the Department of Education, Oxford, UK 5th to 7th July 2023. The conference under the theme of 'Geography Education for the Anthropocene' will provide an important channel for the exchange of knowledge and experiences among researchers.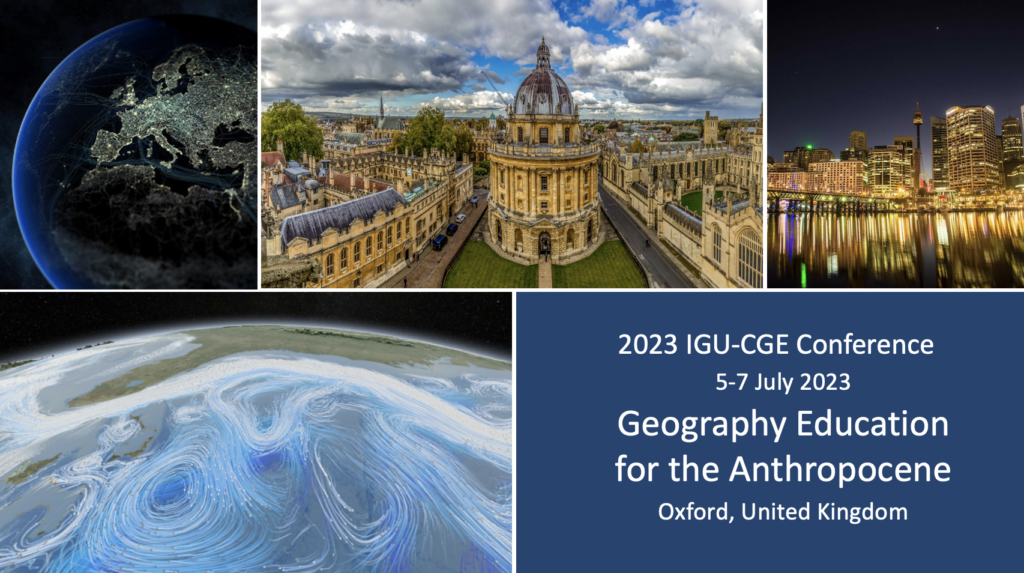 IGU-CGE 2023 Oxford Conference Programme
Conference highlights include: two full days of conference sessions; two keynote speakers (Professor Peter Kraftl and Dr Amber Murrey); the conference meal at St Anne's College (Wednesday); and an optional fieldtrip: Uncomfortable Oxford (Friday). There is an optional early career event at 3pm on Tuesday 4 July 2023, contact Hermione Xin Miao xin.miao@stir.ac.uk for further information.
The conference programme is available (below) for download.
IGU-CGE 2023 Oxford Conference Venue
Department of Education, University of Oxford
15 Norham Gardens, Oxford, OX2 6PY
Conference theme: Geography Education for the Anthropocene
Since the turn of the 21st century, the idea of the Anthropocene has become a ubiquitous term to denote in simplest terms, the dominance of human influence on Earth. The Anthropocene is a concept with diverse and contested meanings. The Anthropocene has profound implications for school geography across curriculum, pedagogy and its broader purpose, all of which are connected to the experiences, perspectives and futures of children and young people and their communities. The complexity and scale of the Anthropocene places significant demands on teachers of geography and teacher educators, whose research and practice is of critical importance to, and for, young people's agency and well-being. Through young people globally, geography education has an important role to play in shaping the future and addressing the climate and ecological crises that have to date characterised the nature of the Anthropocene. We invited contributions exploring geography education for the Anthropocene, such as:
The place of the Anthropocene in school geography curricula
Connections between the Anthropocene and critical geography education
Teaching for the Anthropocene – emotions and affects
Pedagogical approaches for the Anthropocene
Teacher professional development for the Anthropocene
Geographies of education and educational spaces for the Anthropocene
Abstract submission and registration have now closed and successful submissions are now part of the conference programme.
---
Accomodation
Whilst we are not in a position to recommend or endorse any hotels/accommodation, we appreciate that it can sometimes be helpful to have some accommodation signposted. As such, we have shared a few options below (covering a range of prices):
Rooms in Oxford Colleges:
https://www.universityrooms.com/en-GB/city/oxford
Premier Inn (There are 3 in Oxford; the Westgate is closest to the centre):
Easy Hotel (in Summertown, with good bus service to the centre):
Courtyard by Marriott:
https://www.marriott.com/en-gb/hotels/oxfcy-courtyard-oxford-city-centre/overview/
Malmaison (in Oxford Castle's former prison):
https://www.malmaison.com/locations/oxford/?utm_source=google&utm_medium=organic&utm_campaign=oxford-gmb